Crayola Experience
30 Centre Square, Easton, PA, United States

At The Crayola Experience™ visitors enter a world of discovery as they experience more than a dozen hands-on activities as well as learn how Crayola Crayons® and Markers are made. This is not the real manufacturing plant. It's a colorful and interesting visitor center that allows children of all ages to unleash their creative spirit. Themes and projects change periodically to give visitors a variety of projects to create throughout the year.
[showhide type="links" more_text="School Group Trips - Click for More Information" less_text="Hide Information"]
School Groups 
Learning Made Fun at The Crayola Experience™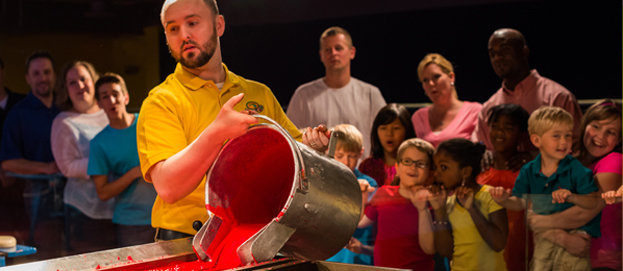 Schools
Have your next class trip at the Crayola Experience! Since 1996, the Crayola Experience has hosted nearly 4 million guests in its 60,000 square foot, 4 story building filled with exciting hands-on attractions. Whether it's learning about melted wax or discovering the secrets of how Crayola crayons are made, the Crayola Experience can provide a memorable class trip for your school!
When your classroom visits the Crayola Experience you can attend an interactive class that teaches the science of making the perfect crayon! Students will learn how each ingredient contributes to a crayon's functionality, as well as how heating and cooling help to make one of their classroom favorites.
Class visit includes:
A hands-on lesson about melted wax

Live manufacturing demonstration of how crayons are made

Tailored instruction to meet your classroom's grade level

Applied principles of STEM (Science, Technology, Engineering & Math)

All day access to 4 floors of hands-on attractions
Book your trip today! Our Group Sales Account Executive would be happy to help you get started:
School Groups
PTA/PTO
Rosie McFetridge: 610.515.8000 x6604
rmcfetridge@crayola.com
RAISE MONEY FOR YOUR SCHOOL!
This new program allows you an easy way to raise money for your school! Now you can raise $1 for every Crayola Experience ticket sold by your school with our special fundraising program.
This program is FREE to you and is easy to get started!
To learn more, please contact our Group Sales Account Executive below:
School Groups
PTA/PTO
Rosie McFetridge: 610.515.8000 x6604
rmcfetridge@crayola.com
[/showhide]