Iroquois Springs
1 Rural Pl, Commack, NY 11725, United States
Choosing a camp for your child can be a difficult decision. The warm, nurturing, family atmosphere that the camp provides has been a key factor in many families choosing Iroquois Springs.
At Iroquois Springs, the emphasis is always on participation, effort and attitude! We think that camp is that rare place where a child can be a winner. Iroquois Springs provides campers the opportunity to become part of a family, where they can take healthy risks, get rewarded for successes, and develop self-esteem and life skills. So whether a camper's thing is sports, arts, hiking, or a little bit of everything, each and every camper at Iroquois Springs can find his or her place in the sun.
Iroquois Springs is a proud member of the American Camp Association, and is a fully accredited camp.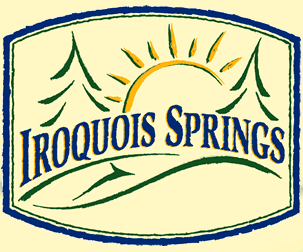 [showhide type="typeA" more_text="Camp Facilities" less_text="Hide Information" hidden="yes"]
CAMP FACILITIES
Less than a two hour drive from New York City, Iroquois Springs is cradled in the beauty of the Southern Catskills. An endless sea of woods surrounds our magnificent 120-acre campground, and a sensational sunset over the springs is truly a sight to behold.
The Iroquois Spring facility is impeccable and includes, among many other outstanding features, a spring-fed lake, an NCAA lighted and heated pool, a Field House, riding stables, nine tennis courts, two lighted roller hockey arenas, an indoor gymnastics center and an amphitheater. To match the needs of the program, we are committed to continually improving our facility.
All campers sleep in modern, well-appointed cabins equipped with electricity and a bathroom with showers.
[/showhide]
[showhide type="pressrelease" more_text="Enrollment" less_text="Hide Information" hidden="yes"]
ENROLLMENT
Three and Six Week Sessions
Iroquois Springs offers families an option to choose from one of two FULL three-week sessions or a full-season camp experience of six weeks. In addition, campers who attend our first three-week session always have the option to extend their stay for the entire six weeks, if space is available. Whether campers choose three or six weeks, they will experience the entire time at camp as part of a cohesive group of friends and staff.
What are the benefits of three and six week sessions?
Camp starts on, or around, July 1st and ends on, or around, August 11th. With a later starting date, Iroquois Springs campers don't have to rush from the end of school to the camp bus. And with an earlier ending date, there is plenty of time is left after camp for family time. In addition, campers coming from parts of the country where school starts a little earlier can partake in all of the final week's activities!

Great Options for Families
Perhaps a three-week session fits the bill perfectly for your family. Or, this might be the first sleep away camp experience for your child — what better options than to choose a three-week session with the opportunity to extend to six weeks? If it is a full-season you are interested in, four weeks may be too short and eight weeks may be too long. In that case, six weeks is perfect!

[/showhide]
[showhide type="links" more_text="IS Explorers" less_text="Hide Information"]
IS EXPLORERS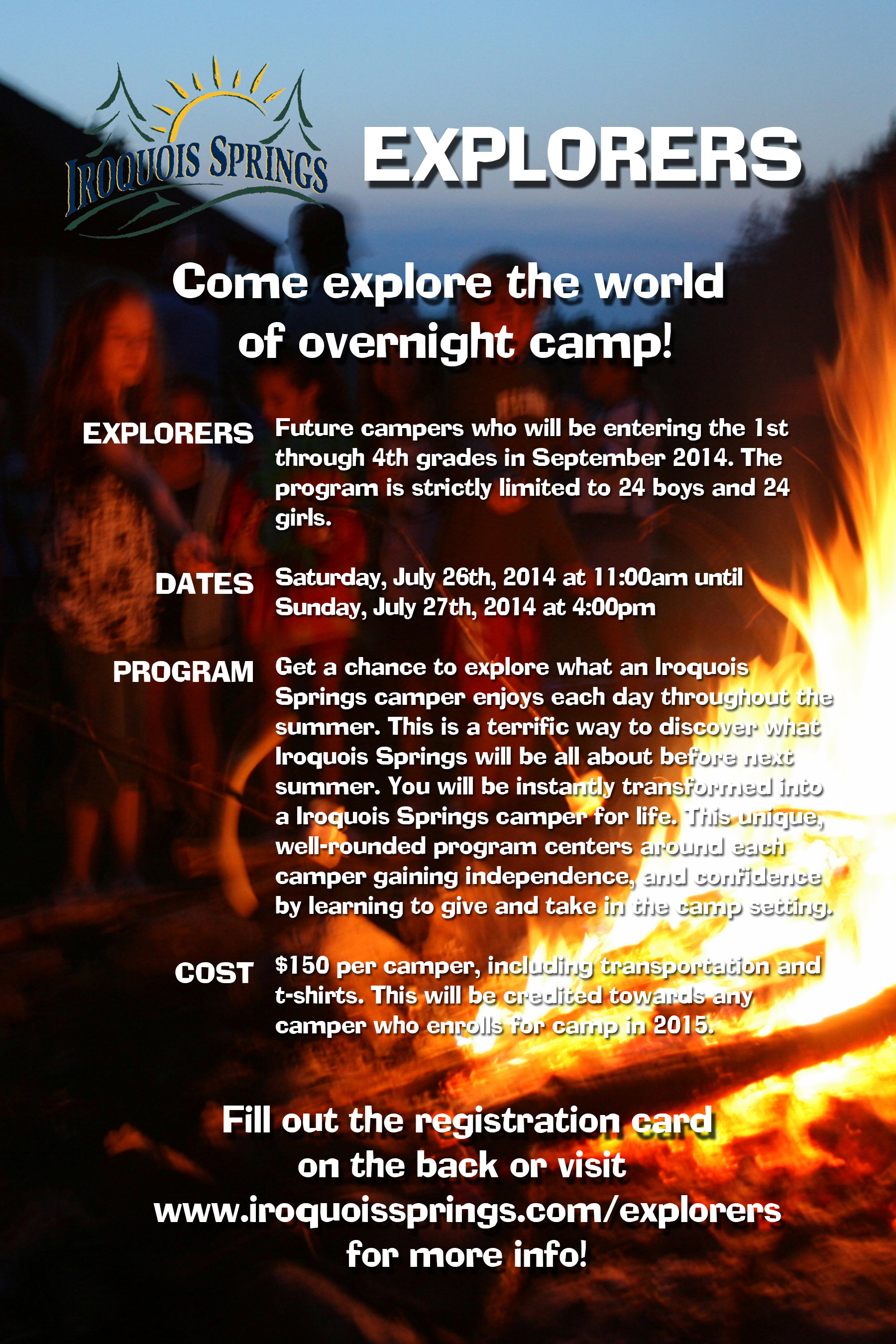 It's time to explore the world of camping at Iroquois Springs!
If your child is entering 1st through 4th grade in the fall of 2014, the Iroquois Springs Explorer program is a perfect introduction to the world of sleep-away camp!
To find out more information about this 2-day, overnight camping experience, check out our flyer.
When you're ready to register, download the registration form. If you have any questions about the program, give us a call at 631-462-2550.
[/showhide]
[showhide type="typeB" more_text="Activities" less_text="Hide Information" hidden="yes"]
ACTIVITIES

Outdoor Adventure / Ropes Course
Activities: High and Low Ropes Course elements including climbing tower, overnight and multi-day camping trips, mountain biking, hiking and camp-crafts, canoe trips and more.

Aquatics (Pool and Lake)
Activities: American Red Cross Swim Instruction, Canoeing, Kayaking, Water-Skiing, Knee-Boarding, Wake-Boarding, Tubing, Rowing, Fishing, Delaware River Canoe Trips and more.
Fine and Performing Arts
Activities: Ceramics, Woodworking, Copper Enamel, Jewelry Making, Stained Glass, Tie-Dye, Cooking, Photography, Rocketry and more. Three Musical Productions, Costuming, Technical Theatre, Scenery, Stage Craft, Website, Digital Photography, Video Editing and more.
Land and Field Sports
Activities: Tennis, Hockey, Baseball, Softball, Soccer, Lacrosse, Gymnastics, Basketball, Volleyball, Golf, Skateboarding and more.
Horse Back Riding Instructor / Wrangler
Activities: English Style Riding, Fundamentals of Riding in a Rink, Trail Riding, Basic Jumping, Grooming and more.
[/showhide]
[showhide type="typeC" more_text="Group Rentals" less_text="Hide Information" hidden="yes"]
GROUP RENTALS
Located just 90 miles from New York City, Iroquois Springs is the perfect setting for company picnics, retreats, school trips, weddings, parties, reunions, sports teams, band camps, specialty camps and almost any type of group imaginable.
Available from the beginning of May until the middle of June, and again from the middle of August until the middle of October, Iroquois Springs can accommodate groups of 25 to 2500. Whether you are looking for a single day, or a multi-day experience, Iroquois Springs is right for your group. Our 200-acre facility has an enormous amount of space for all types of groups. Whether you are looking for ball fields or indoor facilities, we have it all.
Let us help you to plan your next outing. We will be happy to assist you in creating a program that meets all of your needs as well as your budget. Every group will have an on-site liaison to ensure your stay is exceptional. Whether it's customizing the menu, or helping to schedule special events, Iroquois Springs can create an event you will not forget.
Retreat Center Facts
Located Just 90 Miles From New York City
Top Notch Customer Service
Full Catering Options
Private Hotel Style Rooms & Dormitory Cabins Available
Multiple Meeting Spaces With Full A/V Capabilities
[/showhide]